On-Campus Housing
Applications for university housing should be made as soon as possible. More information and applications forms can be found at www.uky.edu/Housing.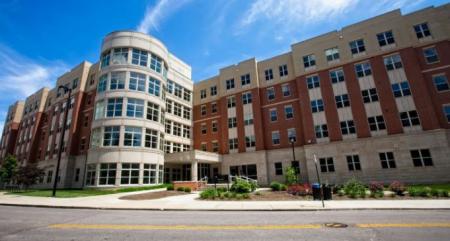 The University of Kentucky offers university housing which is generally more economical than housing off-campus. It is an excellent way to meet native English speakers and make new friends. Housing is available in residence halls (dormitories) and apartments. Students who live in residence halls are required to buy a meal plan and to sign a housing contract during the academic year. International students are advised to request a dormitory that stays open during vacations.
University housing has a cable modem in each room and apartment, allowing access to the Internet and all basic cable channels. Each residence hall has a study area, kitchen, vending area, laundry, and recreational area.
Off-Campus Housing
For more information on off-campusing housing, please go to UK's Off-Campus housing resource found here.
Lexington offers a variety of private housing in apartment buildings and houses. Some are very close to the university and within walking distance; others are further and require a car or other means of transportation. Students should expect to pay about $500-$600 per month for an unfurnished apartment, not including utilities. Of course, life-styles vary greatly and costs may be higher or lower. It is usually more expensive to live off-campus than in university residence halls. 
Lexington Hotels
The University of Kentucky is located on the cusp of downtown Lexington. There are several hotel options conveniently close to the campus.
You can find more information on these hotels, including booking information, at Visit Lexington: Hotels Near UK.